REVIVAL PROJECTS


SCOPE OF WORK
Website Strategy
Web Design
Digital Design
Print Collateral
UN SUSTAINABLE DEVELOPMENT GOALS
#9 Industry, Innovation & Infrastructure
#11 Sustainable Cities & Communities
#12 Responsible Consumption & Production
#13 Climate Action
Revolutionising Sustainable Building Practices


Revival Projects is a multidisciplinary sustainable building practice revolutionising the handling of existing materials destined for landfill by the building and construction industries. Faced with its next stage of evolution, the company needed to clearly communicate its impact, purpose, and what it does as team of activists.

RESPONSE


MEK worked closely with Revival to strategise, develop and design a comprehensive website and digital collateral to support its mission and communicate its purpose. We immersed ourselves in the company's ethos to gain a better understanding of the impact it wanted to make, and created a unique narrative that visually transformed Revival from a building and construction company to a world-leading changemaker in sustainable production.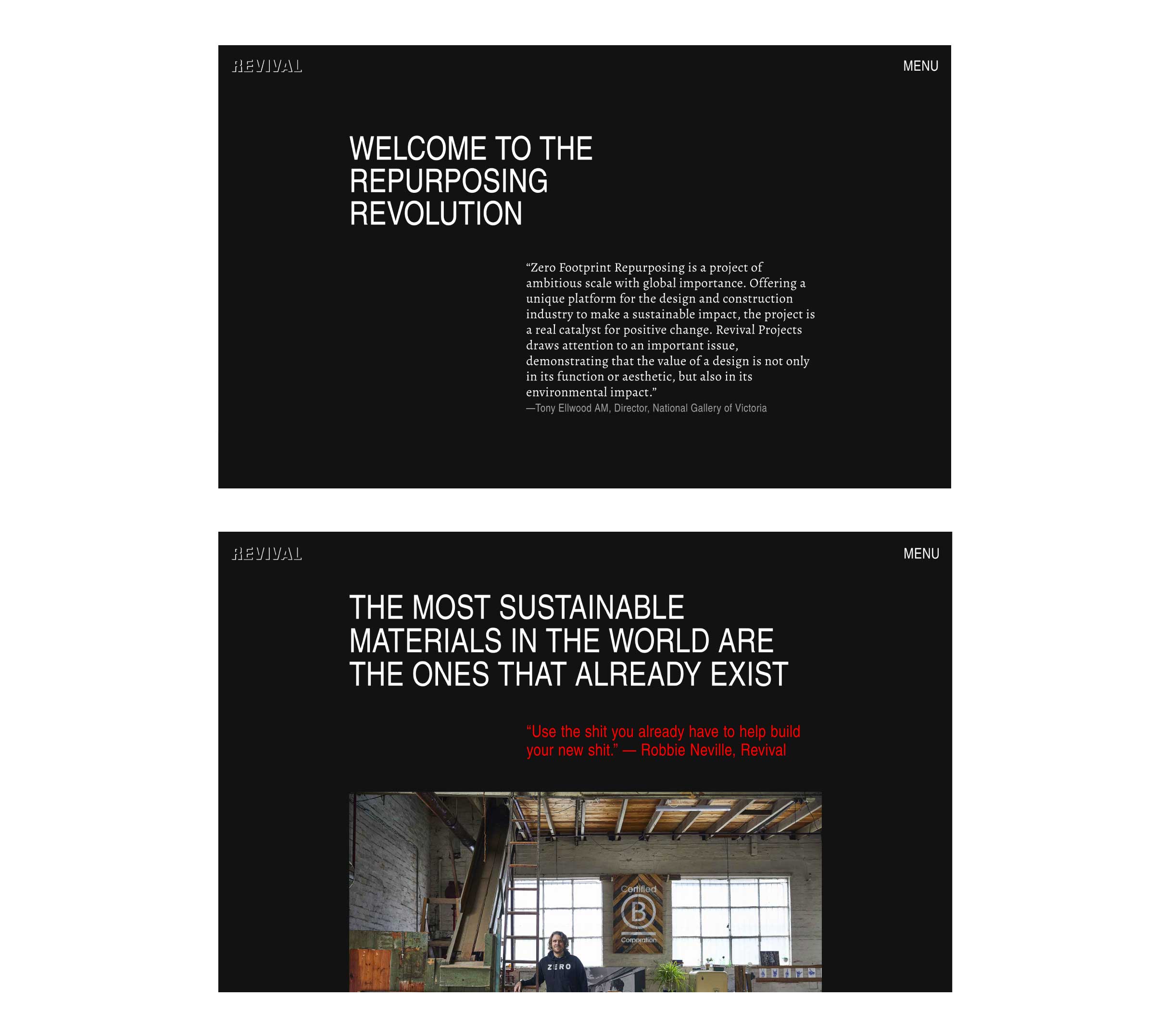 INSIGHT

Through a close strategic collaboration, we focused on amplifying the brand's activist roots in order to stand out from the sea of sameness in its industry; communicating its message with clarity, boldness and confidence, embracing its uniqueness, and focusing on the change it's making in the world.
RESULT

The result is a strategic, impactful design solution that elevates the company's activism and mission, using innovative, unconventional design that boldly communicates Revival's vision and groundbreaking impact in its industry.
Explore the website we created for Revival Projects︎︎︎
"I CAN'T IMAGINE A BETTER DESIGN TEAM THAN MEK FOR A PURPOSE-DRIVEN BRAND. MEK INVESTED IN ESTABLISHING A GENUINE KNOWLEDGE OF WHAT WE WANTED TO CHANGE IN THE WORLD AND HOW WE'RE ABLE TO DO IT; TO THE EXTENT THAT I WOULD DESCRIBE THEM AS AMBASSADORS OF OUR CAUSE.
THE WORK THAT MEK PRODUCES FOR US IS CONSISTENTLY EFFECTIVE AND HAS ELEVATED OUR COMMUNICATIONS AND THE PRESENTATION OF OUR BRAND, FIT FOR A GLOBAL AUDIENCE. WE CHERISH OUR PARTNERSHIP WITH MEK AND COULDN'T BE MORE GRATEFUL FOR THE INCREDIBLE WORK THEY DELIVER IN THE NAME OF OUR MISSION."
ROBBIE NEVILLE, FOUNDER
---

RELATED PROJECTS