ART FOR ANIMALS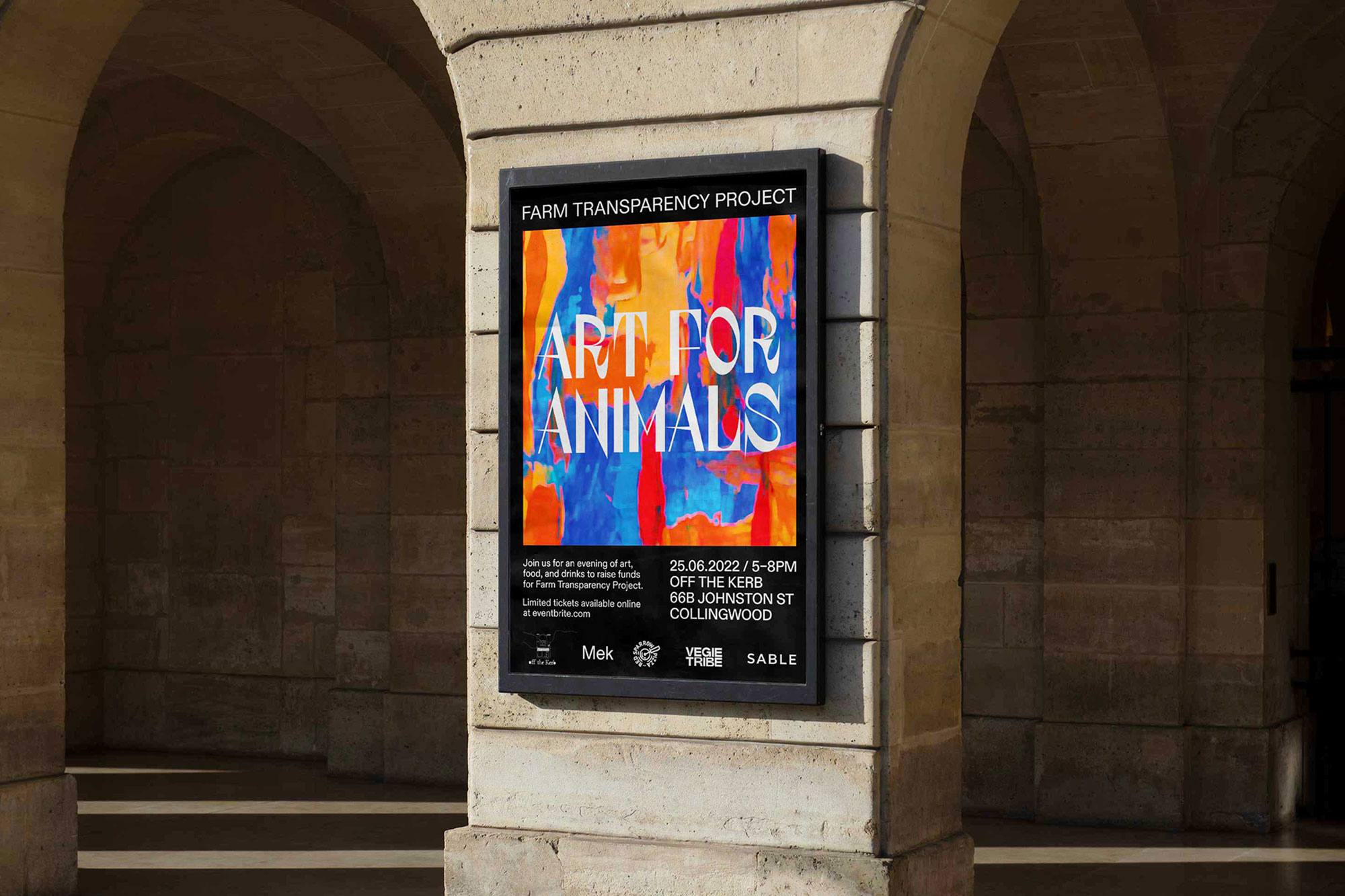 Art for Animals is an evening of art, food, and drinks to raise funds for Farm Transparency Project, with all proceeds going towards its important work in ending commercialised animal abuse and exploitation in Australian animal-use facilities.
MEK was engaged to name the event and create its design. Avoiding design trends and animal related imagery and clichés, we went with an unconventional approach that's unexpected in this space in order to attract attention, inspire action and raise awareness. Keep an eye out for these posters around Melbourne in the coming weeks.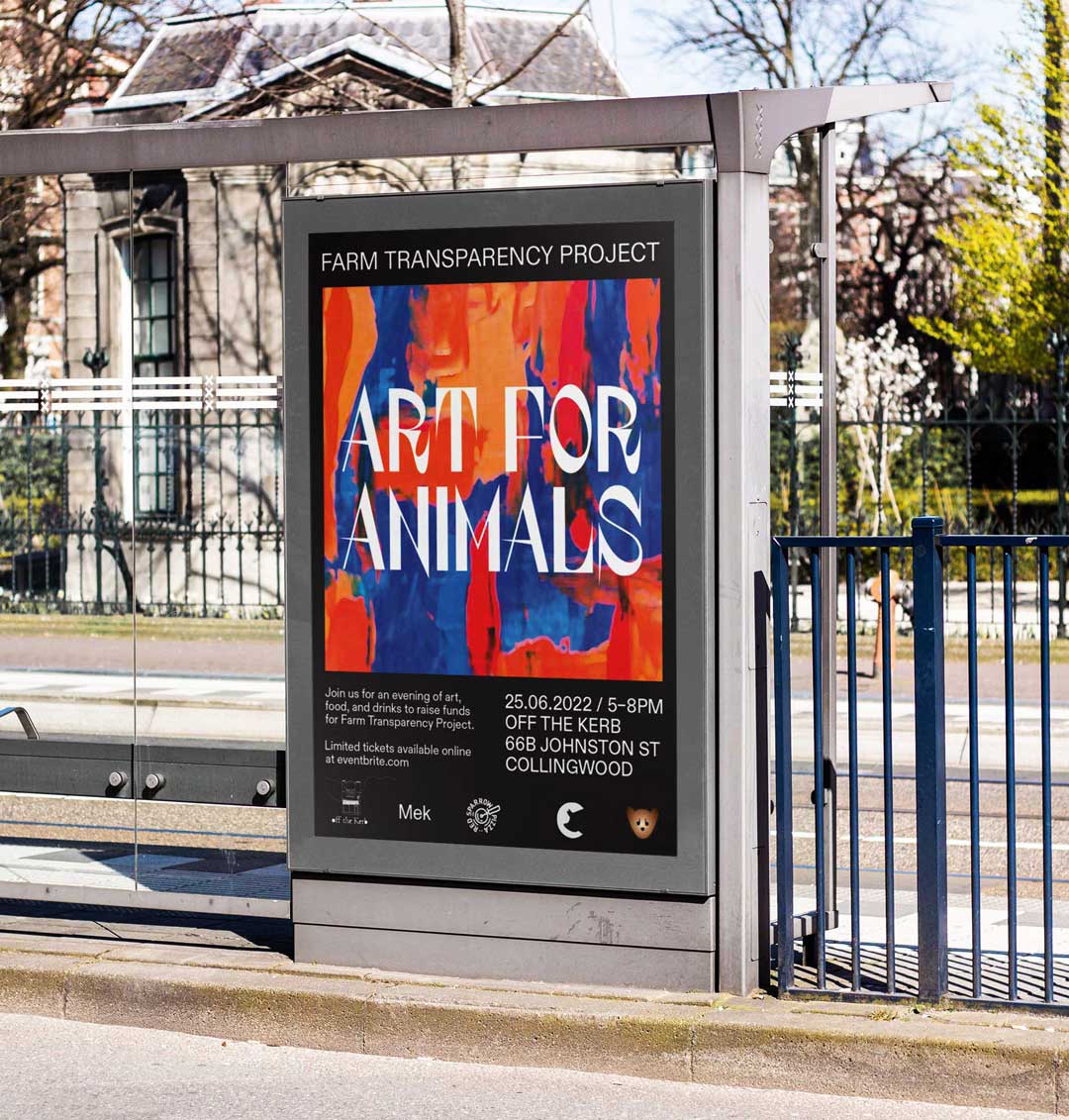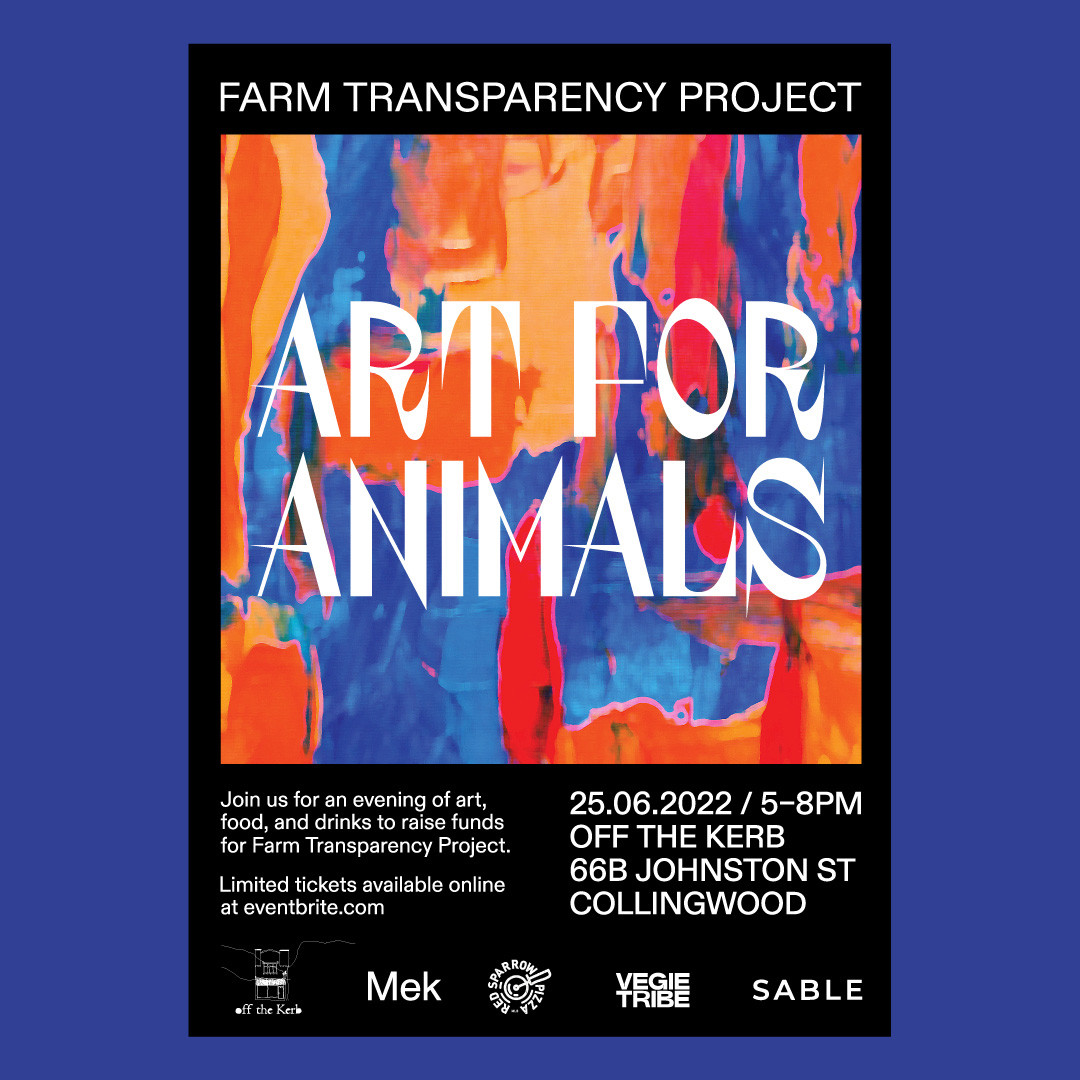 ARTISTS

Avalon Todaro, Chantal Kaufmann, Chris Costa, Christina Sartori, Damien Charles, Gina Robertson, Hayley Lye, Jenny Overton, Kate Louise Powell, Kaya Harris, Kaylene Richardson, Lavinia de Rothschild, Lisa Ballantyne, Manuela Ferstl, Melvy Connell, Mishy Stan, Patrick Regan, Robin Thompson, Robyn Ambler, Sylwia Wojcik, Tammy Leigh, Wren Kechayos
Art for Animals is sponsored by Off the Kerb Gallery, Red Sparrow Pizza, Vegie Tribe, Sable, and MEK.
"MEK'S DESIGN FOR OUR ARTS EVENT DRASTICALLY HELPED WITH THE SUCCESS OF OUR FIRST FUNDRAISER. HELPING US RAISE OVER $8K AND COUNTING, MEK WAS QUICK WITH UNDERSTANDING DIRECTION AND HIGHLY CREATIVE IN DECIDING HOW BEST TO ATTRACT GUESTS TO THE EVENT, CREATING AN ABSTRACT DESIGN AND CATCHY EVENT NAME. MEK-DESIGNED POSTERS AROUND MELBOURNE'S CAFES, RESTAURANTS AND VEGAN ESTABLISMENTS WERE WELL RECEIVED AND HELPED US ACHIEVE OVER 250 TICKET SALES PRIOR TO THE EVENT."

CAITIE WILSON, FARM TRANSPARENCY PROJECT