WOMENTOR


SERVICES
Brand Strategy
Brand Identity Design
Digital Design
Print Design
Web Design
Event Design

UN SUSTAINABLE DEVELOPMENT GOALS
#5 Gender Equality
#10 Reduced Inequality
Improving Gender Equality in the Design Industry

Womentor is a mentorship program for women in design that aims to improve gender equality in the design industry. Founded and run by MEK's creative director Mirella Arapian, the program provides personalised mentorships for senior designers, partnering them with creative directors and design leaders through a one-on-one program that empowers mentees with the tools and confidence to support their creativity, careers and future. The program was created as a response to the lack of support in senior design roles, and representation and equality in the industry.
RESPONSE

MEK created an inclusive brand identity to represent bringing women together. The identity was intentionally designed to be approachable and accessible to ensure equity and build trust, making it welcoming for people to apply, participate and sponsor.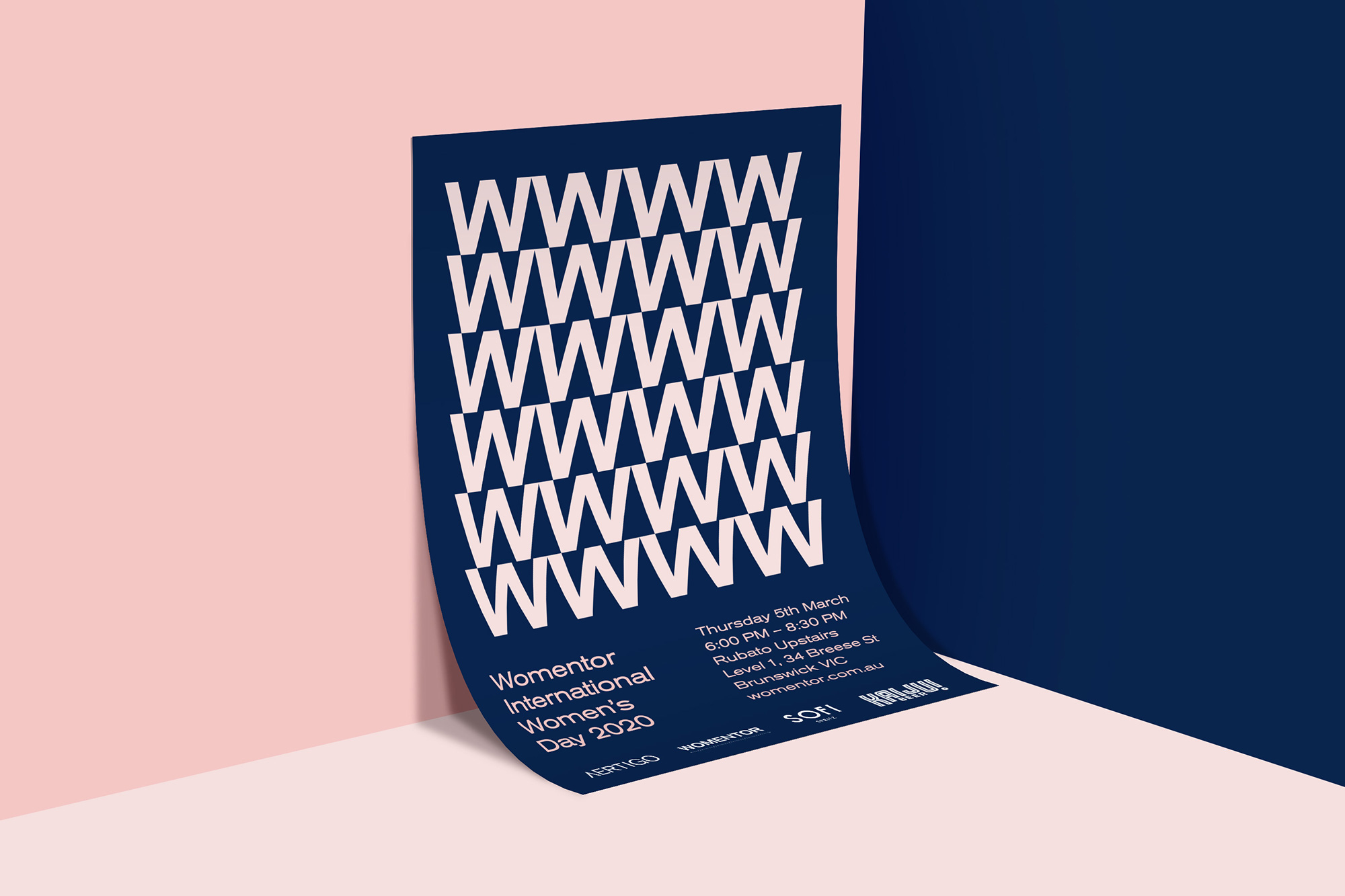 INSIGHT

Our aim was to convey a direct representation of the initiative, what it stands for and the impact it wants to make in the design industry. This was achieved by the merging of two V's as a W to symbolise the partnership of mentor and mentee, and the supporting zig zag pattern representing all participants coming together as well as the wider design community.

RESULT

The strategic and unconventional identity has attracted sponsors, industry bodies, media and over 500 applicants, and has helped Womentor build an international community of fans, followers and advocates.



AWARD

Finalist, Design for Good, 2019
Australian Graphic Design Association Awards
"IT IS DEEPLY REWARDING TO BE ABLE TO CONTRIBUTE TO WOMENTOR AND INSPIRE THE CAREERS OF OTHERS. I WANTED TO DO EVERYTHING I CAN TO HELP UNDER-REPRESENTED FOLK GAIN FOOTHOLDS AND OPPORTUNITIES IN THE INDUSTRY THAT ARE AFFORDED TO OTHERS.

THE ISSUE WOMENTOR IS TACKLING REMAINS STRUCTURALLY ESSENTIAL, AND SUPPORT NETWORKS AND MENTORING ARE THE STRONGEST TOOLS WE HAVE TO ADDRESSING STRUCTURAL INEQUALITY."

TEA UGLOW, CREATIVE DIRECTOR

GOOGLE CREATIVE LAB
WOMENTOR, 2019
Event photography: Kaan Unugur

---

RELATED PROJECTS